Be part of our culture
Want to be part of the story? Our mind-set is the most powerful asset we have: these are the characteristics that define our people.
Whether in Buenos Aires or Bangkok, Munich or Madrid, Generali people feel part of one community.
That sense of belonging comes from our commitment to making a difference in people's lives, a commitment that has lasted nearly two centuries and that is our group's most important legacy.
Customer-focused
Our people care about people: we strive to find effective solutions, whether dealing with any of the millions of people who rely on Generali every day, or working with our colleagues around the world.
---
Simple & Smart
We have the ability to reimagine a problem and find simpler, more intelligent ways to solve it. An intellectual asset that drives our global business success.
---
Performance-oriented
Our people have the ability to reimagine a problem and find simpler, smarter ways to solve it. This has been a key characteristic that has defined our success throughout almost 200 years of history.
---
Entrepreneurial and innovative
Our commitment is to return the enthusiasm and dedication that our people display working for Generali.
We believe in an enviorment where where people can feel energised and inspired to make the difference.

---
VALUES AS THE FOUNDATION OF OUR CULTURE
Every day, through their work and behaviour, our people embody the group's Values, the foundation of Generali's shared company culture:
Deliver on the promise
Value our people
Live the community
Be open
---
OUR DO'S AND DON'TS
Our people make our Values real in their relationships with colleagues, customers and the community. 
Our do's and don'ts translate our Values into simple and concrete examples.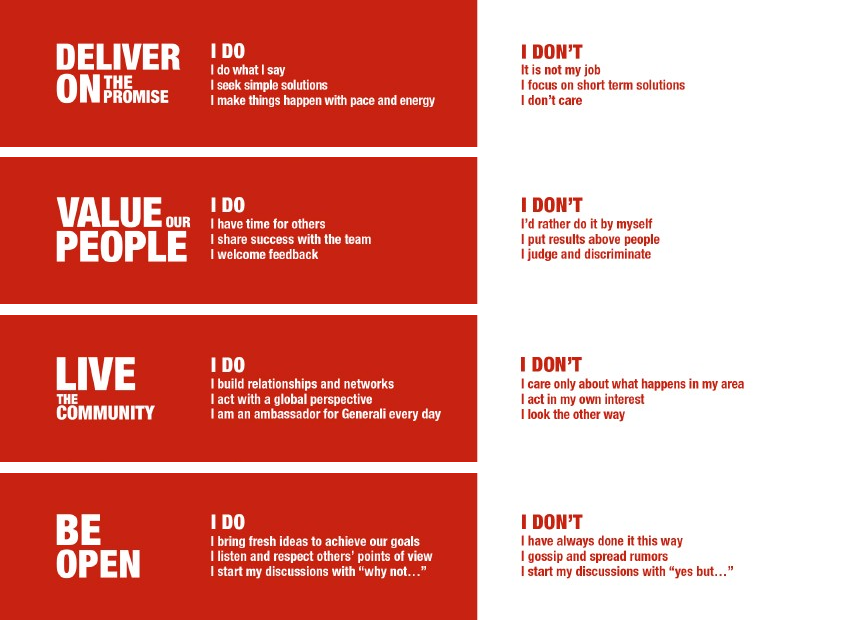 ---